Shopping Cart
Your Cart is Empty
Thank you for your business!
You should be receiving an order confirmation from Paypal shortly.
Exit Shopping Cart
Mission Point-The Canaan Church of Christ in Tobago,Trinidad
– Established by Brother and Sister Donnie and Annie Bland.
The first Mission Trip was May 27 through June 6th 2019. It was very successful. The Canaan Church of Christ was chosen as the individual Church that the mission will be sponsoring in the coming year. Forty bible donated by Locust Grove Church of Christ were taken by Brother Donnie Bland and 125 little hand-made dresses sewn by Sister Annie Bland's Dorcas Project with the help of Sister Nell Jordon and Sister Margaret Varney. Sixty five men cap where sent donated by
Brother Freddie Jordon of Locust Grove. Brother Donnie Bland was able to preach at the congregations in Trinidad and Tobago and was able to assist the brethren there with the spreading of the Gospel. It was a great experience. The return trip is planned for next year around the same time.
At Harristown Church of Christ, we believe that serving God by serving people is an important part of our faith. Matthew 20:28 states, "even as the Son of Man came not to be served but to serve, and to give his life as a ransom for many." As His hands and feet, we attempt to show His love by taking care of people and serving them. Some of the ways that we show the love of Christ are:
Churches of Christ Food Bank- Distribution Center Harristown Church of Christ
Dorcas Ministry

(THE DORCAS PROJECT AND IT's FOUNDER Sister Annie Bland)

James 1:17 (Every Good & Perfect Gift is from above )
The Dorcas Project is a project that solicits sewers to sew dresses to send to improvised Nations all over the world.
The Dorcas project was started by Annie Bland in March of 2008. Dr. John Adams took the first 30 dresses on a Mission trips in 2007. Afterwards, Annie went on a Medical Mission trip with Franklin church of Christ, She sewed and delivered 100 dresses to the needy children in El Salvador and 50 pairs of shorts. Residents of Franklin heard about this project and started to donate and sew for this projects. . One person can make a different. As to date, over 2000 hand-made items have been delivered to children all over the world.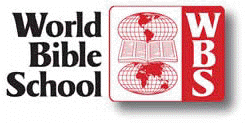 World Bible School Ministry
The mission of outreach bible study is to share the Good News of Jesus with the world using everyday Christians and interactive Bible studies.
WBS is one of the Christian brotherhood's most proven, cost-effective means of spreading the Gospel to a lost world! There is a network of Christians, missionaries and churches to teach and reach truth-seekers, bringing them into God's family. Everyday Christians of all ages, equipped with WBS' Bible lessons, help teach those who want to study. They teach with printed lessons using postal mail like spiritual pen-pals. They teach with email and mail lessons.
NewLife Behavior Ministries (NLB) is a comprehensive program primarily designed to assist prisoners in behavioral improvement - not only in personal lives but benefiting families and society as well. NewLife Behavior is a "Ministry of Hope" - reconciling individuals to God, families and society.
It was taught by our Minister, Donnie Bland and his wife Annie at the Simpson County Detention Center, Franklin, KY. They taught Christians Against Substance Abuse " CASA". A Graduation Ceremony for two inmates was held November 17, 2014, 10:00 a.m. These two have been baptized and added to the body. A total of three baptisms so far have came from the Prison Ministry.
Link (http://www.nlbm.org/index.shtml)
/